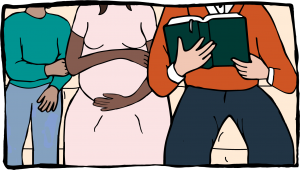 Basically, a family consists of a mother and one or more children, with a father at some distance. The mother takes care of the children. The father helps her and also protects the family from outside dangers.
Families have existed in this form ever since people lived in relatively small groups a long time ago, until these groups became larger, more complex and developed into todays societies. In other words, a society is a multitude of families each consisting of the mother and her children surrounded by father, grandparents and other relatives. Families constitute the basis of a society in all sorts of ways.
biological basis of society
The existence of families is taken for granted as a consequence of our biological reproduction. The family is the dominant social unit and cannot be understood without considering its biological function, the distinction between the sexes and the regulation of sexual desire (lust). The popularity of the family is entrenched in all cultures. It generates personal convictions in line with mythologies and hierarchies of power.
We must ask whether the family is as good as it is generally believed to be.
Reproduction and family life are considered to be human rights, but it is perhaps time to reconsider this principle. Bad genetic characteristics are passed on to children, who live an often short and miserable life under poor conditions. Many children receive a bad education, die prematurely, or have to deal with handicaps for the rest of their lives.
The existence of families has led to a considerable amount of social injustice. The rich as well as the poor tend to think of their own family members first. This explains the social inequality in property and income, schooling, healthcare and housing. Selfishness and social anomy are not caused by individualism, but by the natural survival strategies of families.
Family life also produces a number of psychological defects. Children spend an extremely sensitive period of their lives within a family not of their own choice. During their youth they learn the basic rules for social and emotional behaviour. These rules include all kinds of religious and political beliefs, fear of punishment, obedience, personal ambitions and a dislike of strangers. Many of these norms are arguably wrong, but they are extremely persistent because they are transmitted from parents to their children. Of course, children are not only influenced by their parents or their siblings, but also by other relatives, friends, media and school. However, these other influences also stem from family norms so that, as a structure of upbringing, the family has a tremendous impact on the psychological make-up of society.