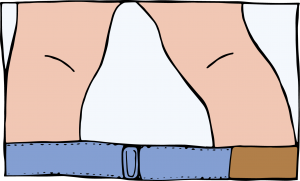 Exposing ourselves as a sexual being to other people is normal behaviour. To expose one's genitals is a fantasy which many people might like to act out, but few actually do. 
Women and exhibitionism
Women can afford to present themselves as sexual objects: wearing make-up, accessories and sexy clothes are commonly accepted ways to emphasize female sexuality. Showing off their long legs, firm bottoms, low necklines, smooth skin, red lips, big eyes and long hair is something many women like to do. Even before adolescence girls are (made) aware of their beauty and are encouraged to share it with the world. "If you've got it, flaunt it" they think. And they do, as models, dancers, singers and actresses.
Men and exhibitionism
But men, too, can get a kick out of showing (parts of) their bodies to others; male performers do it all the time. Still, there is far less social acceptance of boys and men demonstrating their sexuality.
Some men develop an obsession for publicly flashing their genitals and bare bottoms -an experience intensified by their anxiety and arousal. Their 'audience'gets terrified and angry; they take action against the flasher or call the police.
Exhibitionism in the modern world
In the whole world, the public showing of genitals is considered an offence and is punished in varying decrees of severity. However, in the more liberal world of today (and for the promotion of tourism) an exception is sometimes made for nudist colonies and beaches, where people can enjoy nudism in a secluded environment. No immorality, chaos, orgies, crime or lawlessness appears to occur there. On the contrary, since there is so little in the way of fetishism, sexual arousal is rare.
Exhibitionism can be practised indoors too: small groups of people meet to flaunt their erections or have group sex. Those who don't participate in group sex themselves, get turned on by watching others. This latter variant is called voyeurism.