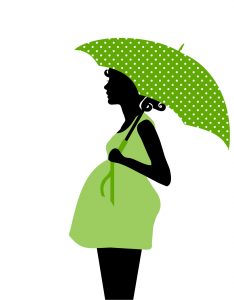 The main distinction between the sexes is that only women can give birth. Not every woman does so, however. Five percent of all women are sterile, and a smaller percentage do not want children.
Natural desire
The majority of all women have a natural desire to give birth. This desire already exists during a woman's youth. It is usually an inner (genetically encoded) motivation that has a tremendous influence on a woman's behaviour and on her life. This desire is generally also supported by the woman's social environment, her relatives, friends, school. The goodness, naturalness and desirability of pregnancy and birth are entrenched in every culture and society.
Sexual Reform
Approximately 200 years ago, a sexual revolution started in the Western world. This revolution has made the woman's role in pregnancy and childbirth debatable. Most people nowadays agree that it is a woman's right to choose for or against pregnancy. Also, the idea of 'wanted' pregnancies (and thus 'wanted' children) is very popular. Even though this is a vast and important improvement, theory is not the same as practice. As mentioned before, all societies and cultures support and stimulate the desire in women (and men) to have at least one child. Thus, even though the number of children per woman has decreased, and the age at which the woman gives birth to her first child has increased, the biological family of mother and child, one of the pillars of the sexual system, continues to be the cornerstone of our society.
Pregnancy & childbirth: new develpments
Maternity is also an ideal to women who, for some reason, cannot become pregnant and therefore seek medical help. This has led to extensive investigation of reproduction, pregnancy and birthgiving. It is now possible for conception to take place outside the woman's body, allowing far greater control of the reproductive process. This new development causes strong negative reactions, fear, indignation, rejection, just as contraception and abortion did in the past. Any rational person, however, will see the advantages, especially from the point of view of prevention. Women will be freed from the burden of pregnancy and maternity (which now both are generally depicted as blessings), and the conception, development and birth of children will be increasingly controlled by human reason. The focus on the woman's right to become pregnant will shift to the child's entitlement to good health and education. The sexual revolution will thus enter a new stage.
Pregnancy & childbirth: pros
The good things about pregnancy are: On an individual level there is the promise of having a baby all of your own, an attachment figure much like a favourite doll or pet, someone that you will be intensely intimate and happy with. Also, a baby dispels the fear of a future life without a family, which is probably the greatest fear in an unmarried girl's life. The deep urge to be a mother must be immensely strong and have its rewards, otherwise it would not have survived. Also, apart from personal emotional fulfilment, there is increased self-esteem, the feeling of being an accepted and important person in society, or even the sense of living in accordance with Nature, the Creation, God's laws. If modern women 'choose' to have children, they are motivated basically by the same emotions as their mothers, who desired to have children just as passionately. The modern myth of 'wanted children' supports the world-wide family-planning campaign which idealises the mythical modern western happy family and the American way of life.
Pregnancy & childbirth: cons
Unpleasant consequences of pregnancy are: Symptoms and risks during pregnancy: nausea, hypersensitivity, tearfulness, flatulence, dizziness, tiredness, testiness, swells, constipation, frequent need to pee, hypertension, abdominal cramps, heartburn, sore muscles, swollen breasts, darkening of the nipples, backaches, itching, pimples, greasy hair, cellulitis, stretch marks, spots, medical tests and treatment, warnings, dietary rules, fears, guilty conscience, reduced sex drive and attractiveness, superstition, depression, dependence, vulnerability, early or late miscarriage, inflammation of the gums, scars, prolapsis, infections, anaemia, piles, varicose veins, diabetes, painful delivery, tearing or incision, puffiness, forceps delivery, premature birth, caesarean operation, afterpain, permanent scars, injury, loneliness, worries, sleeplessness, exhaustion, loss of blood, reduced mobility.
In the long run, reduced attractiveness and mobility both take their toll, because caregiving not only gives satisfaction but also creates frustrations and disappointments. The middle-class women combine work with study, career, motherhood and partnership, not to mention hobbies or lovers. This generally creates a hectic life, from which no escape seems possible. This phenomenon illustrates the crisis of present-day global human reproduction at an individual level. The most serious disadvantage of natural reproduction continues to be that the child has hardly any say over its existence.