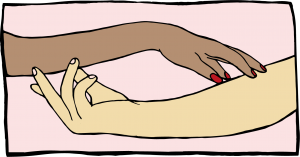 The word 'hetero' means 'different'. In the context of sexual behaviour it means 'the opposite sex'. People who are sexually oriented to persons of the opposite sex are heterosexual. (As opposed to homosexuals, who are attracted to people of the same sex.) 
Heterosexuality is common
Heteroseuality is the most common and generally accepted form of sexual behaviour. Everyone has inborn heterosexual tendencies, which are genetically programmed, and reinforced by upbringing and culture, in short, by the sexual system. After all, the underlying function of sex is to serve the reproduction of the species, both at an individual and at a collective level.
Heterosexuality is the norm, but 'it takes two to tango'. Sexual behaviours which are practised on one's own -like exhibitionism (exposing yourself to others), voyeurism (watching others having sex) and masturbation- develop earlier than sexual intercourse and continue to be practised till late in life.
Heterosexuality in childhood
Falling in love and being swept off your feet by someone of the other sex can happen at any age. When children fall in love, there is usually no intimate contact involved. In fact, there is a large social gap between boys and girls. In every schoolyard the girls play only with girls, the boys play only with boys. And that preference continues in fact throughout life. People tend to feel more comfortable among their own sex.
Heterosexuality in adolescence
Only during a relatively short period do they consort with the other, different, 'opposite' sex (also called 'gender').
During adolescence youngsters mature sexually and start looking for someone of the opposite sex to mate with. There is cultural variation in the extent to which young people are free to meet each other. In the strictest cultures, two virgins enter into an arranged marriage and start a family right away; these youngsters lead grown-up lives after a very brief adolescence. This is the oldest, the most natural situation.
In modern Western society the situation is different for a large number of young people: they go through a relatively long period of adolescence, experiment with different partners (one after another usually) and have different lifestyle choices. But in the end, most decide to follow nature and get married to have a family. This is the situation at present, which is a transition period between the old and the future way of reproduction.