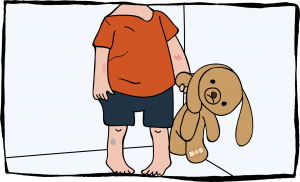 Child abuse is an emotionally loaded term to which everyone responds with feelings of disapproval. This is a universal and natural reaction. The protection of children is necessary for the survival of individuals, a group, or a species. Feelings of tenderness for small human beings and animals who are clumsy, curious and demand support and care, are genetically pre-programmed. 
Child abuse is always condemned, especially the abuse of very young children. Older children cannot escape experiences that could be called abuse, such as bullying, fighting and humiliation by peers. These experiences are inevitable when children become more independent and are confronted with external threats.
Child abuse has many forms
Child abuse can take many forms. The age of the child may vary from 0 to 18 years, and the abuse may vary from mild to severe mistreatment. Examples of severe mistreatment are gross negligence, exploitation, physical harm, mutilation, or even killing. According to various sources, between 20 and 60 million cases of severe child abuse are registered in the world every year. Estimates are that at least a thousand children a week die as a consequence of mistreatment. Most cases of child abuse take place within the family. This comes as no surprise, since the tensions that underlie family relations in some cases inevitably lead to severe abuse.
Child abuse is widespread
Less dramatic but very real forms of child abuse include belittling, oppression, compulsion, hitting, frightening, mistrust, abandonment, circumcision, etcetera. Practically every child undergoes this kind of abuse. Parents take their authority for granted and this inevitably leads to some form of mistreatment. This 'normal' parental behaviour is generally defended as being beneficial to the child who has to learn to survive in society. No doubt, most parents feel consciously or unconsciously guilty about the unpleasantness to which they (have to) subject their children. Since child abuse is so widespread and is accompanied by feelings of guilt, a process called 'projection' takes place. This means that feelings of anger and shame are not accepted by the self but redirected to a category of 'bad' people. These are then called 'child abusers', so that the self can remain 'good'. Thus the term 'child abuse' is often used by the media in the sense of 'child sexual abuse' and as such is vehemently condemned. Many cases of so-called child sexual abuse, however, are nothing more than sexual games which in themselves do no harm, certainly less harm than all the normal abuse that is going on. The confusion and trauma that young people experience when they are found out or confess are generally due to the frightening panic reactions of parents and others.
The conclusion must be that if we want children to grow up without abuse, we must critically examine the values of society and the family, in short, the sexual system itself.