travestism&transsexuality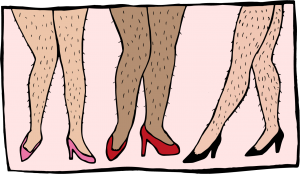 Travestism mainly relates to the wearing of clothing, while transsexualism means that one really wants to change gender.
Travestism & Transsexuality: travestism
Travestism, the pleasure derived from 'dressing up' is one of the favourite pastimes of children. During puberty and also at a later age the touching, caressing and wearing of female clothing can cause strong feelings of lust in boys and men. Female clothes generally have a stronger effect than male clothes and women themselves enjoy wearing them, especially when the materials are soft, like silk or sheer nylon. Nearly every man has secretly worn female underwear at some time and masturbated on it. The desire to wear female clothing sometimes develops into a preference that imposes itself during puberty or later, and can be accompanied by negative feelings towards one's own sex. From this may sometimes arise the desire to be a female. If it is strong enough, this desire is called 'transsexuality'.
Travestism & Transsexuality: transsexuality
However, the term 'transsexuality' is mostly used only for the strong feeling and conviction that one really belongs to the other sex. This is thought to be something different from travestism in the sense that it can be consciously experienced at a very early age without any travestite experience. The need to have one and the same sexual and emotional identity makes a number of transsexuals seek help in order to have a 'sex change' treatment. Through an operation which removes the genitals and creates a vagina or penis, and combines with hormone treatment to grow breasts or hair, one sex may change into another, and bring a measure of happiness to a number of individuals who were desperately unhappy before.
Interview with Sonja Raaymakers of the Dutch Contact Group Travestism & Transsexuality:
We prefer the term 'transgender', so as to include both sexes and all the various shades of gender between 100% male and female, which do not exist, by the way. Transgender is a positive term: it breaks through the narrow bounds of thinking in terms of 'male' and 'female'.
The intensity and range of transgender feelings vary considerably. At some point they cause dysphoria, a permanent feeling of dissatisfaction. This dissatisfaction can be so strong that it is clear that something is wrong from an early age on. It can be so profound that one wishes to adopt one's body to one's feelings. This is called 'transsexualism'. Most transgender people do not need this. They are able to find ways to live in harmony with their feelings.
The majority of the transgenders are not interested in medical treatment. Only 1 in every 12,000 men and 1 in every 30,000 women is transsexual.
I am aware of my transgender nature. Travestism is a tool that I use to express transsexuality, to myself and to the people around me. Many men tend to be somewhat clumsy in this respect. The way they express themselves is experienced by others as a caricature: the SM-servant, high-heeled shoes, tight or short skirts, fetish behaviour. Fortunately, contacts with other transvestites can modify that kind of behaviour.
Dressing up habitually, it becomes more and more boring to withdraw to a room by yourself and jerk off: it is no longer enough. Dressing up does not cause a giant erection any more. Sometimes when I am dressed up several days in succession I really do not have an erection all the time; good heavens no!. Of course I regularly ask myself why I am doing this. I can now clearly see that I always have been somewhat out of tune: I never played boys' games, I was no typical healthy male or macho, and it made me angry when my educators wanted me to be one. When I was an adolescent I never made a pass at girls, and so on. It was only later that I understood what must be the reason for my behaviour. At the same I became dissatisfied with my social role as a male, and I became critical of the sex-stereotype culture we live in.
A medical operation is only a solution if the psychological side of the matter is clear to you. Far too often the medical profession starts doctoring without enough concern for the psychological aspect. Transsexuality is often treated as a purely medical problem, which is a rather ignorant approach.
Sometimes I have to be somewhat strict with people and tell them they are going the wrong way. I will never make it a secret that I disapprove of hiding travestism from one's partner. Furthermore, she should not be saddled with the burden of buying clothes and stuff, and the household budget should not suffer any extra expenses. Finally she does not have to make love to you 'en femme'. My guests know my opinions. I receive 30 to 40 transgenders every month, many of them with their partners, some with their children, or even their mothers-in-law! For many of them the T&T evening is a true night out. It is probably so important because it helps them keep their lives in order.
Read: Michael Bailey, The man who would be queen, NW University, Chicago, 2003.