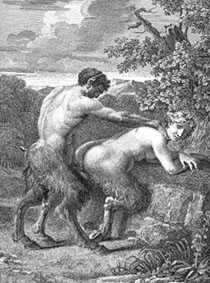 The word satyriasis is sometimes used for 'excessive sexual desire or activity in men'.
The term satyriasis is derived from Satyr, a demigod -half goat half human- which represented lust in Greek mythology. The word satyriasis used to be the counterpart of nymphomania, which refers to the same phenomenon in women. Both words are used as invectives, or to denote a syndrome. Research and social surveys show that 'too much sex' is a relative idea, so that what is excessive for one person may be insufficient for the next. On the other hand, there are men who are so constantly obsessed with sex that they become a nuisance to their social environment, and need treatment of some kind.
The present-day sexological term is 'hyper'sexuality, which is the opposite of 'hypo'sexuality, which means a lack of sexual interest. The latter has for a longer time been an accepted sexological problem that is found in many married couples.