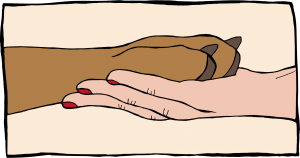 Zoophilia is the Latin term ('zo-on' means 'animal') for sex between humans and animals. Another word is 'bestiality' (beastliness), but this is a negative judgemental term that has been used for anything that is considered dirty and low, especially homosexuality, anal and oral sex (also in heterosexuals), or for anything felt to be deviant or disgusting. 
History of zoophilia
Sex between humans and animals is a topic with a long history. According to all the writers on zoophilia, people (and gods) have had sexual, or sexually oriented contacts with animals since time immemorial. Some authors considers all sexual contacts, whether between humans or with animals, to be an enrichment, something which is principally good, and an embrace of life. An example is Midas Dekkers, who wrote 'Lief Dier' ('Dear animal')
Zoophilia in research
Stine Jensen recently wrote a book called 'Waarom vrouwen van apen houden' ('Why women love apes'). This book describes the scientific research of ape behaviour, for which especially women, such as Jane Goodall and Dian Fossey, have become world famous. These women love their apes, even in a subdued erotic way. Their intimate life with them has a cultural significance, related to the wider idea that women are dissatisfied with the human male. Man, tame and civilised, has lost touch with nature, is all rationality in his business life or his scientific exploration and investigation, and is hostile in his destructive exploitation of nature. This idea is supported by novels and films about women who really run off with an ape, because they are dissatisfied with their husbands (which reminds us also of the famous novel 'Lady Chatterley's Lover' by D.H.Lawrence, in which a lady -whose husband is paralysed from the waist down- starts a love affair with her gardener, who represents lower class vitality and closeness to nature).
Zoophilia in literature
'Dear animal' is written from a 'cultural' perspective. Midas Dekkers provides a wealth of stories and pictures, going back to antiquity, which illustrate sex between humans, gods and animals. Practical hints are also given. A woman who mates with a dog must know that the dog remains stuck for some time after ejaculation. It would not be wise to tear him loose with force, because that would cause injury to her vagina. Also, it is quite possible to fuck a chicken. A chicken does not have a vagina but a cloaca, through which it defecates and lays its eggs. Cutting the chicken's throat just before the peak moment causes the muscles in the cloaca to contract rhythmically, which adds enormously to the pleasure. Many farm hands must have practised this, Dekker says, when they had to slaughter chickens anyway.
Zoophilia in sex films
Sex with animals is generally disapproved of and classed among sex with children or unconscious persons. Respectable producers of 'normal' pornography will not allow these 'perversities'. In most countries zoophilia is also considered to be a criminal offence, because it is seen as a form of cruelty to animals, which is quite hypocritical in view of the way many animals are treated, kept, bred, transported, killed, cut up and consumed.