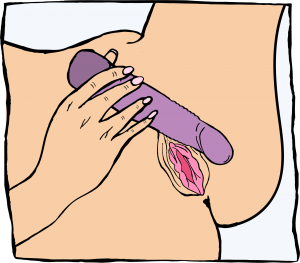 Masturbation means to arouse yourself sexually, usually to orgasm. Other expressions for masturbation are 'to jerk off' for males or 'to finger oneself' for females. An old and very negative term is 'self-abuse'.
Another word is onanism. This word is derived from Onan, a character from the Old Testament who was punished by God because he 'spilled his seed on the ground'. The true reason for Onan's punishment was that he did not want to get his deceased brother's widow pregnant, something he had been ordered to do on the basis of what was customary in those days.
History of masturbation
In nineteenth-century Europe the fear of masturbation increased and reached a high point in the early half of the twentieth century. In order to scare off adolescents it was said that masturbation resulted in self-contamination, led to tuberculosis of the spinal cord, and could cause meningitis and insanity. On top of all that, small devices were invented that 'responsible' parents could tie around a boy's genitals to prevent 'the wickedness' to develop. Some of these devices were equipped with stings or shrewd alarm devices that would cause pain when the boy had an erection and warned the parents. Also, the clitorises of thousands of young girls who were suspected of masturbation were removed surgically. It comes as no surprise that all this intimidation reduced the joy of living and led to fear, guilt, and feelings of inferiority and self-contempt. That was the fate of numerous people who could not refrain from masturbation in spite of all the fearful prospects. Of course, a majority practised it without a great deal of individual suffering: they just kept the practice secret, and felt that at least they were not as bad as the 'real' masturbators who ended up in the law courts or the psychiatrist's consultation room, and were said to be 'obsessed' or 'addicted' because they practised self abuse several times a day or used perverse stimulans like 'obscene' pictures. Sexologists and educators of the second half of the twentieth century gradually changed the thinking about masturbation. At present the majority agree that masturbation is not harmful, but even rather a healthy sexual activity. Still, many people feel uncomfortable about the practice, do not condone it in young children, priests or married people, and see it as additional evidence in cases where someone is accused of some moral offence.
Masturbation: most people do it
Research has shown that most people masturbate every now and then. It used to be thought that boys masturbate more often than girls, presumably because they discover their penis at a relatively early age since they pee with it. That is not true. Most people masturbate before they become twelve. This does not mean that someone who starts later is not normal.
Masturbation is healthy
Sexologists agree that masturbation is harmless. It is not true either – as some people think – that the genitals lose their form, or wear out early. Nor is it true that people who masturbate often become impotent or frigid. On the contrary! Sexual organs are just like any other organs: the more you use them the better they function. It is possible, however, that masturbation in addition to sex may lead to feelings of guilt, but these feelings are caused only indirectly by masturbation. Some people are very shy and introvert. They find it difficult to start a relationship. Naturally they often feel unhappy because they are thrown back upon themselves. They think that they are deviant because they masturbate. But they should think of it as a comfort instead. Most people continue to masturbate when they are married or have a steady relationship.
Girls and masturbation
Girls usually masturbate by rubbing their clitoris with one or more fingers until they come. Sometimes it is enough for them to squeeze their thigh muscles together. There are many different individual ways in which girls play with themselves. Some prefer fast movements, whereas others take it more slowly, although they too, move faster when they approach the orgasmic stage. Girls may reach orgasm several times in a row, and still be sexually aroused. Because masturbation techniques may differ from one person to another, lovers are advised to find out experimentally or by talking about it, how the partner likes it best.
Variations and fantasies used during masturbation
It is not uncommon to use aids that enhance the pleasure of masturbation. Boys can use all kinds of things that serve as replacements for the vagina, or they take off their clothes and watch themselves in the mirror while masturbating. Girls may use objects that resemble penises, and put these into their vaginas while masturbating. Girls can also use vibrators which they place against the clitoris, or the vaginal or anal opening. Both sexes may use the jetstream of water coming from the shower head.
Masturbation and sexual fantasies
Masturbation usually goes hand in hand with sexual fantasies, and may even depend on such fantasies, which may be completely different from one person to the next. Some have realistic fantasies about situations that they envisage in real life, making love to someone they have met or know from school or work. Others may have fantasies that are less realistic and even downright shocking to themselves when later they think back on them. Most people have used pornography from magazines or the internet to stimulate their fantasies at one time or another. Fantasies during masturbation are common and harmless.
Problems with masturbation
Some people, especially women, have trouble reaching an orgasm. They try hard, but the only thing that happens is that their hand starts to ache, or they get bored and give up. In boys, pain caused when the foreskin is too tight, or by an infection, may spoil all the fun. In these cases, the cause has to be taken away.
Masturbating together
It is not uncommon for children and youngsters, especially boys, to share their sexual feelings or fantasies with others. Approximately half of the boys at some time masturbate together with one or several friends. They masturbate themselves or each other. Girls do not masturbate each other very often, but they enjoy sleeping close together in the same bed. To many people these early sexual experiences are a pleasant memory, which, at a later age, they recall with nostalgia. Some people discover through these experiences in their youth, that they feel so much attracted to their own sex that homosexuality becomes their preference or identity.