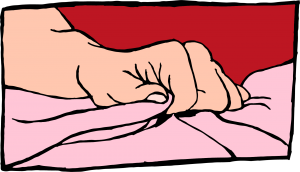 The term 'sexual response' was made popular by John Masters and Virginia Johnson. They reported the results of an extensive study of what happens when people have sex alone or with a partner. In their book Human Sexual Response, published in 1970, they interviewed people, observed sexual intercourse and masturbation, and used instruments to measure internal and external physical changes.
Research
Needless to say, this project became world famous because it was the first of its kind and because, at that time, people were very interested in the subject.
Masters and Johnson distinguish four phases in the sexual response: arousal, plateau, orgasm and resolution. This model is still being used, although some additions and refinements have been made, due to research or criticism. At the beginning of the cycle the stage 'sexual desire' has been added, because sexual problems may also be caused by a lack of desire. This is a typical example of the feminist element in sexology today.
Orgasm & desire
Our basic assumption is that everyone lives with lust, i.e. a desire, longing or appetite to have sex. This desire is partly unconscious and is subject to continuous changes through interaction with other desires, fears, and circumstances. The transition from slumbering lust feelings to conscious desire, and then the beginning of arousal, strictly speaking does not belong to the sexual response, which starts with the feeling of sexual excitement (being horny), leading to masturbation or making love, resulting in an orgasm, followed by relaxation. The sexual response is the most intensive conscious experience of lust out of the total repertoire of sexual behavior that humans display.
Orgasm phase 1: arousal
Under certain circumstances, internal or external timuli like a thought, an image, music, a smell or a touch or a sound, sexual desire becomes conscious. Depending on the situation, this feather-light excitement disappears, or increases, may last a few seconds or several hours. Arousal is in constant interaction with counter impulses. Leaving this world of conflict apart, let us assume that the desire is stimulated without interruption, by actions with or without a partner. This is when we speak of 'arousa'. We observe that the heart beat increases, blood is drawn into the genital area, muscle tension increases, thoughts concentrate more on sexual stimuli (fantasies, kissing, caressing). Nipples become erect, breasts grow fuller, the vagina gets wet, the clitoris swells up, the vulva opens a little, the penis swells and becomes erect, testicles swell and move upwards, the scrotum contracts, breathing goes faster.
Orgasm phase 2: plateau
Actions (penis, vagina, hands, mouth) become more concentrated as arousal continues, resulting in optimal blood pressure, tension in all muscles involved, maximal swelling of the penis and vulva, coloring to deep red, excretions from the vagina and penis, sex tension flush (face and upper body become red). This plateau stage can be very short, but may also last many minutes. People who have difficulty reaching orgasm (women more often than men) get stuck in the plateau stage, find themselves unable, as it were to break out.
Orgasm phase 3: orgasm
Orgasm is a climactic release from the plateau stage, comparable to the eruption of a volcano, water reaching a boiling point, or any other process in nature that leads to an explosion. The climax usually lasts only a short time, and coincides with maximal energy in all areas: involuntary flexing of muscles, maximal blood pressure and breathing, panting, moaning, seminal fluid collecting in the prostate, the feeling of inevitable ejaculation, intense sensation of breaking into supreme pleasure, then the ejaculation of semen by the male and excretion of some fluid by the female, followed by pleasurable rhythmic contractions of the muscles of vagina, anus and penis.
Orgasm phase 4: resolution
The final phase is one of relaxation. The sex tension flush disappears almost immediately after orgasm, the muscle tension and blood pressure, breathing intensity and feeling of ecstasy decrease rather quickly. The swelling of clitoris and penis rapidly decrease to half; the nipples can remain stiff longer.
Generally speaking, females can more easily stay on the plateau stage than males, and from there have another orgasm and another (Masters and Johnson observed in some women up to 60 orgasms during a session), while the man generally moves straight through the plateau and descends quickly to a state of little or no desire, or even aversion. Depending on circumstances, he needs some time (from 15 minutes to several days) before he is interested or capable of being aroused again.
The most natural response after orgasm, especially in males, is a feeling of depression and a wish to hurry away from this vulnerable and exposed position. An old saying still rings true: "Post coitem omne animal triste est" (after coitus every animal is sad). Humans are very special in the sense that we have developed and can cultivate a post-coital feeling of great joy and satisfaction, a sense of paradise and innocence, love for the world and all mankind.