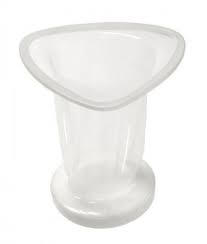 The best-known brand of female condom, Femidom, is made of very thin polyurethane. The female condom is placed inside the vagina, with an opening on the outside for the penis to go into.
Advantages of the female condom
An advantage of the female condom is that the girl has control over her protection against pregnancy or infection. Also girls who have sex only occasionally and do not like to take the pill every day, may prefer to use the female condom. Another advantage of the female condom is that it can be put in before you start having sex, so there is no interruption of the love-making. A disadvantage of the female condom is that it cannot be bought everywhere, and that it is much more expensive than the male condom. Also, some girls do not like to touch their genital area, so they will avoid using this female condom.
How to use a female condom?
Check the 'use by' date on the packet of the female condom as well as the quality control mark of the EU. Take out the female condom carefully, so as not to damage it with sharp fingernails. Find a comfortable position for yourself, lying or sitting down, squatting, or standing with one leg on a chair.
Hold the closed end of the female condom and squeeze the inner ring between your thumb and middle finger. With your other hand, separate the inner lips of your vagina, then insert the ring into the vagina and push it inside. Then insert your finger into the ring and push the inside against the back of the vagina. Then make sure that the outer ring lies close against the area outside your vagina. You are now ready to have safe sex. When the penis is ready to enter the vagina, make sure it does not enter the vagina outside the female condom. So you must look on and possibly guide the penis into the condom.
After the male orgasm and ejaculation, you can relax for a few minutes. Then, when he pulls out, hold the outer ring between your fingers and pull the female condom out gently. You can put it on the floor and later place it in a bin. Do not flush the female down the toilet.
For more information see: