cunnilingus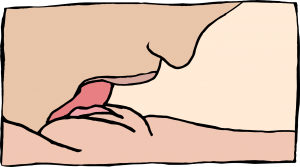 Cunni is Latin for the female genitals and lingus means to lick. Other terms are French tongue, eating pussy, going down on someone. Oral sex has one great advantage: it cannot make you pregnant. 
Start cunnilingus very gently
Kissing a girl's genitals can also be a very exciting and satisfactory experience for both. It requires a certain skill, as in ordinary kissing, which means it should not cause irritation or be boring. It is important to use enough saliva on the tongue, to start off very gently and with a lot of sincere attention. Slow and teasing movements of the tongue across the vagina and around the clitoris and back can be varied with tiny quick flutterings of the tip of the tongue across the clitoris. You can let your finger play around as well, very gently and with loving care. Do not suddenly penetrate the vagina, do not become mechanical or rough. Pay attention to how she reacts, because it is an indication of how she likes it, and if she is warming up. If she just lies there, maybe she is not enjoying it very much. Perhaps she is not ready for it, or perhaps she feels isolated. While kissing her genitals, you can still keep in touch by caressing her body, or holding her hands. You can recognize the signs of an approaching climax, and then it is best not to change your position or technique. For her to reach the climax it is important to get the same intense stimulus for at least half a minute or so.
Cunnilingus and orgasm
The clitoris becomes bigger and stiffer as it gets aroused, just like a penis. At a high level of excitement, but before the orgasm, the clitoris retreats. This is not a sign of diminishing interest, on the contrary. Licking around the clitoris, keeping the tongue and lips very wet, and then concentrating on the same area with a regular and constant rhythm while perhaps playing around very lightly with a finger, will probably bring about her orgasm within a minute. Normally speaking, an orgasm is very noticeable, because the girl is hot, covered in a thin layer of sweat, often shows a red flush all over her body, moves uncontrollably, moans or gives other vocal signals and then utters a deep explosive sigh as the peak of sexual pleasure washes over her. You recognize the signs because of your experience with yourself. The orgasm consists of 5-10 contractions of the muscles of the vagina and the anus, which can clearly be felt. Some extra moisture may come out during orgasm. This is sometimes referred to as 'female ejaculation'.
Cunnilingus and individual stimuli
If you realize that the effect of your effort is small, ask if there is perhaps something you should do differently. She may have a special technique to which she has got accustomed during masturbation. In general, individuals show some small differences in behaviour, and thus often require individual stimuli. Always check if she likes what you are doing.
The most typical problem of oral sex can be a sense of isolation in the receiving partner. Therefore it is very good to keep in touch with each other. Eye contact is not easy, although intermittently looks and other signals of communication can be exchanged. Touching is quite possible, caressing or holding hands, stroking or grabbing hair. So there are ways of keeping up the communication and not losing sight of each other.
Cunnilingus and hygiene
Positions must be comfortable. The kisser can avoid a stiff neck by placing a pillow under the girl's buttocks, or adopting a position where she sits on his face. Good hygiene is required. Too much hair can be unpleasant and should be trimmed. Hygiene also requires that the kisser do not move form anus to vagina with the tongue or finger, because that may transport bacteria and cause infection. If you are not certain about the partner's safety, a lick patch, made of latex or other material and provided with a flavour, can be used. Those with experience or a sense of adventure can make licking even more exciting by changing posture or clothes or by smearing tasteful substances like whipped cream or honey. Last but not least, partners can give each other pleasure by mutual oral sex, called 'sixty-nine'.